Gravity Vitrified Paving
Product Description
The Gravity range offers strength and technical assurance common to the vitrified range.
Gravity is available in Four colours, Basalt, Black, Dark & Steel.
Available in 3 size project pack
20mm thickness
Multiple laying pattern opportunities exist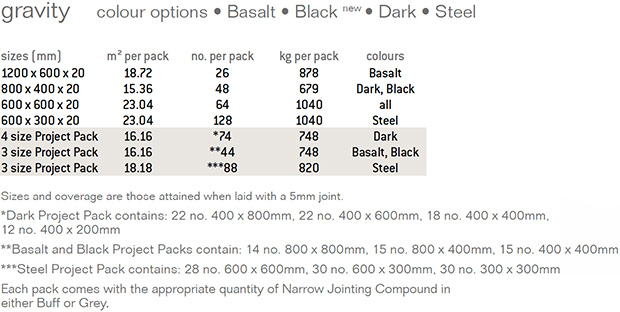 Product Prices
1200x600x20 Flamed, Basalt - £1,188.03 18.72m2 (26 Per Pack)
600x600x20, Black - £1,194.67 23.04m2 (64 Per Pack)
600x600x20 Flamed, Basalt - £1,194.67 23.04m2(64 Per Pack)
Need help with buying Stonemarket products?
Technical and Product Queries
If you need assistance with technical product queries, such as suitability for use in specific areas, product specification or general product advice, then please contact Marshalls Technical Advisory Team on:
Phone: 0345 302 0603
Email: sales@stonemarket.co.uk
Availability and Order Queries
If you need to ask a question relating to availability, ordering or delivery, please contact M P Moran Stonemarket Store on the following number or email address.
Phone: 0208 459 9000
Email: stonemarket@mpmoran.co.uk