Vintage Stone Raven Garden Setts
Vintage Stone Raven Garden Setts
Product Description
Stonemarket Vintage Raven setts combines and coordinates with Stonemarket Vintage Stone Raven garden paving product. All products from the vintage stone range are part of Stonemarket ethically sourced Fairstone range . Processed with a worn texture and smooth finish akin to the properties of reclaimed flagstones. Manor setts are made from tough brown to black sandstone. Available for purchase as a project pack or as single sizes.
Available in one colour - Raven.
Available in a 4 size project pack.
Available in a single size of 210mm x 140mm.
Thickness for all setts is between 25mm x 40mm.
Ethically sourced natural stone.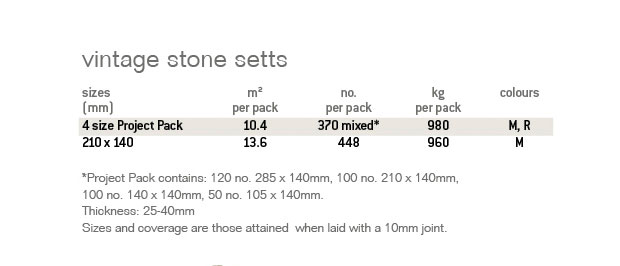 Product Prices
10.4m2 4 Size Project Pack, Raven - £542.43 (370 Mixed Per Project Pack)
Need help with buying Stonemarket products?
Technical and Product Queries
If you need assistance with technical product queries, such as suitability for use in specific areas, product specification or general product advice, then please contact Marshalls Technical Advisory Team on:
Phone: 0345 302 0603
Email: sales@stonemarket.co.uk
Availability and Order Queries
If you need to ask a question relating to availability, ordering or delivery, please contact M P Moran Stonemarket Store on the following number or email address.
Phone: 0208 459 9000
Email: stonemarket@mpmoran.co.uk