Namera Paviors
Product Description
Cut from the same limestone as our beautiful Namera paving, Namera Paviors radiate elegance with soft tumbled edges and delicate quartz veining. They can be used on their own for pathways, courtyards and patios or teamed up with Namera paving as detailing paviors and borders to create a truly coordinated scheme. Namera Paviors are available in two colour blends, Desert Blend and Tala Blend.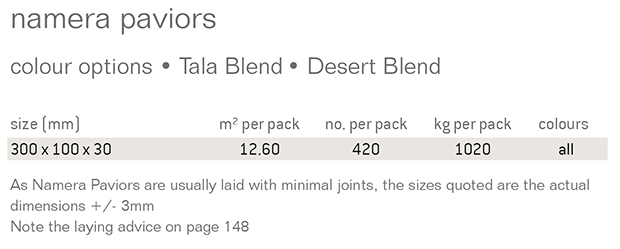 Product Prices
300x100x30, Tala Blend - £716.89 (420 Items per Pack)
Need help with buying Stonemarket products?
Technical and Product Queries
If you need assistance with technical product queries, such as suitability for use in specific areas, product specification or general product advice, then please contact Marshalls Technical Advisory Team on:
Phone: 0345 302 0603
Email: sales@stonemarket.co.uk
Availability and Order Queries
If you need to ask a question relating to availability, ordering or delivery, please contact M P Moran Stonemarket Store on the following number or email address.
Phone: 0208 459 9000
Email: stonemarket@mpmoran.co.uk